About Positively Organic:
Combining luxuriously-soft organic cotton and sweatshop-free manufacturing with bold graphics, bright colors and hip, yet simple designs, Positively Organic's delightful collection of children's apparel is not just fun to wear — it's kinder to the planet and to the people who make them.
style
B•babies — Po's signature collection features natural colored baby bodysuits, tees, varsity tees and blankets with a unique selection of high quality photo images inspired by nature and the great outdoors. Designed to mix-and-match with the vibrant Happy Wear collection

Happy Wear — includes mix-and-match bodysuits, yoga pants and adorable accessories in an assortment of vibrant colors.

EarthLine — offers hip seasonal styles and colors, woven cotton and other new sustainable materials.
Combining earth-friendly materials and sweatshop-free manufacturing with bold graphics, bright colors and hip yet simple designs, Po offers a unique mix of style and sustainability.

Collections
sustainability
In today's global economy, we believe that the best way to uphold our commitment to sustainability and social responsibility is by supporting and promoting small-scale manufacturers and organic farmers across the globe.
Materials
Our clothes are made in a beautiful, clean, light-filled factory located in a picturesque coastal town in southern India. They're sewn by a team of highly skilled workers from the local community who work decent hours for very fair living wages. With an organic garden just starting to take root outside, the atmosphere is as far from a sweatshop as you can imagine.

Believing that kids should be in school and on the playground, not at work, our manufacture doesn't employ anyone under 18 and actively supports the local elementary school. The owners just purchased several acres of farmland which will be developed as an organic farm where the factory workers will be able to grow crops and take what they need for their families.

Our clothes are made from handpicked and ring spun cotton, which is grown by an organic farming community that has been growing organic cotton in Northern India for centuries.

They are embellished with nickel-free snaps and low impact chemical dyes, which means they don't contain heavy metals so they have a very low environmental impact and are safer for people with allergies and sensitivities.

We also strive to use recycled and/or reusable materials in our packaging.

Manufacturing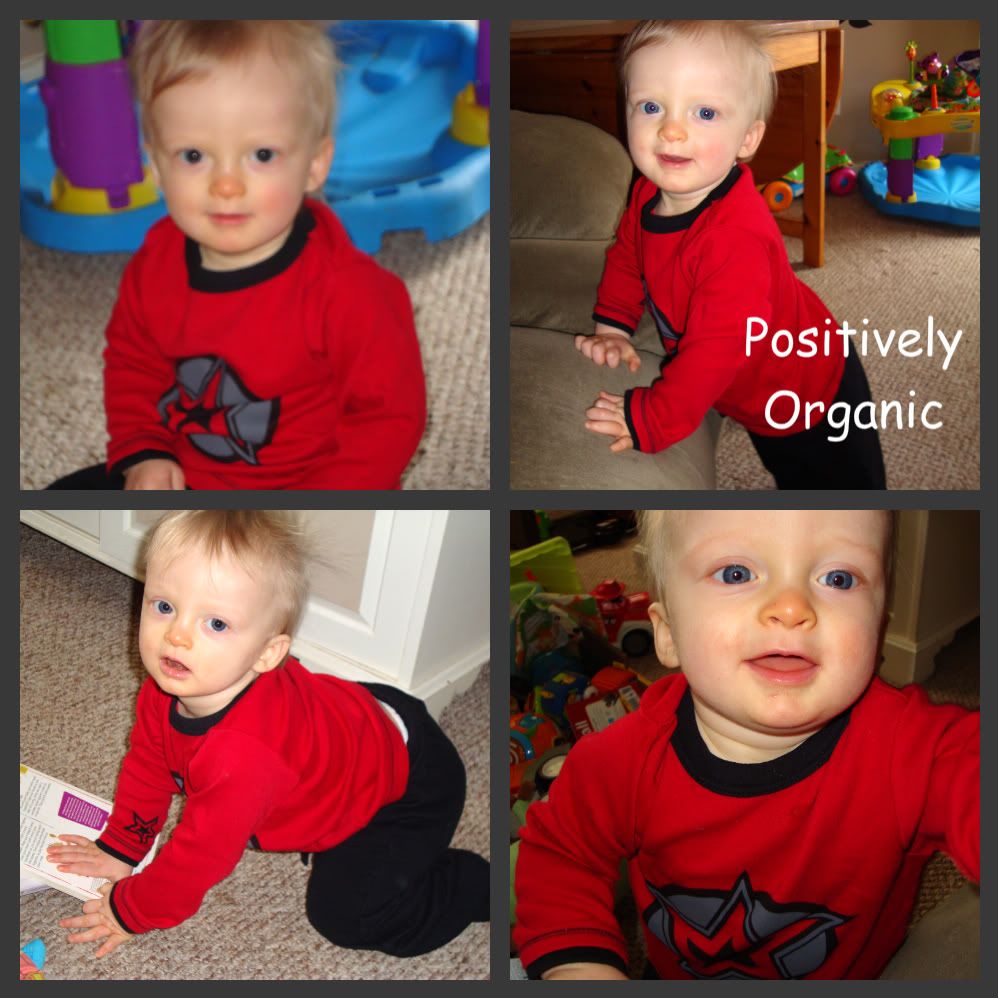 history
Positively Organic was founded by New York city residents Nancy and Peter Possenti, on the simple belief that when it comes to dressing kids, parents shouldn't have to choose between style and sustainability.

Ms. Possenti came up with the idea for Po's signature B•Babies collection while driving around the rural farmland near the couple's weekend cottage in the Catskill Mountains. In need of a baby gift and uninspired by what she found in stores, Nancy bought some blank onesies, designed a logo, and using iron-on photo transfers, created her first BarnBabies gift basket. As requests started pouring in from friends and colleagues, she soon left her full-time job as PEOPLE Magazine's Creative Services Director to dedicate herself to launching the business.

During a life-altering trip to a woman's sewing cooperative in Nicaragua, the couple realized that in order to create a company they could truly believe in, they would have to commit to sustainable and socially responsible values — and Positively Organic was born.

With a clear vision, great passion and big dreams — but limited resources — the Possenti's started their company working late nights and weekends while also holding other jobs. Tapping into their diverse backgrounds and talents, they designed a website, ordered some inventory and, with a heat press in their living room, started fulfilling orders.

As the company has grown, the heatpress and expanding inventory have made their way to a new studio space but the Possentis still personally print each of their B•Babies images – both to ensure the highest level of quality and to stay connected to the physical process.

Peter continues to hold a fulltime job as a graphic artist while also overseeing the company's technology, bookkeeping and printing needs.
Save 15% off your order

RIGHT NOW

!
Not valid on clearance items.
------------------------------------------------------------------
Win a grab bag full of Po's adorable and comfy organic baby or toddler clothes. We pick the styles -- the winner picks gender and size!
*You MUST be a GC follower to Enter!*
Each entry must be a separate comment! (Only one entry will be counted if you do not leave each completed entry in a separate comment.)
*Subscribe to Journey to "Green" via Email (Subscription must be confirmed) -1 entry
* Suggest friends for Journey to "Green" on Facebook. Friends must actually "like" the page, and you must list their names in a comment. For each person, you'll get an extra entry!
*Network with Journey to "Green" on Facebook! If you are a blogger, this is a great way to build a larger fan bag. You'll find the widget on the right hand corner. – 2 entries
*Vote for me on I'm a Top Mommy Blogger- 1 entry
*Tweet about this post – 1 entry
*Blog about this post – 2 entries
RULES: Open to U.S. Residents. Giveaway Ends January 17, 2011 at 11:59 pm EST.
The winner will be selected using Random.org. You will have 24 hours to respond. If no response is received, the prize will be forfeited and a new winner will be selected.
I received this product free of charge and all opinions expressed are my own.
What I thought:

I received the
Red Star
long sleeve graphic tee made from soft organic cotton as well as the 100% organic cotton
yoga pants
in black for B to review and enjoy. I can't imagine a more comfy set of clothing! This outfit was absolutely perfect, super soft, and festive enough for the season. I feel even a tad jealous dressing him because of the softness! Positively Organic has an adorable line of organic cotton clothes for your little ones. The fit was perfect for him and they washed really well. Surprisingly, the red shirt didn't lose pigment or bleed either! The black has retained its color well now also. The yoga pants fit well over his cloth diapers and he was unstoppable playing around in his new digs.

Would I recommend PO? ABSOLUTELY! I hope that you all will check out Po's website and put one of their adorable outfits under the tree!